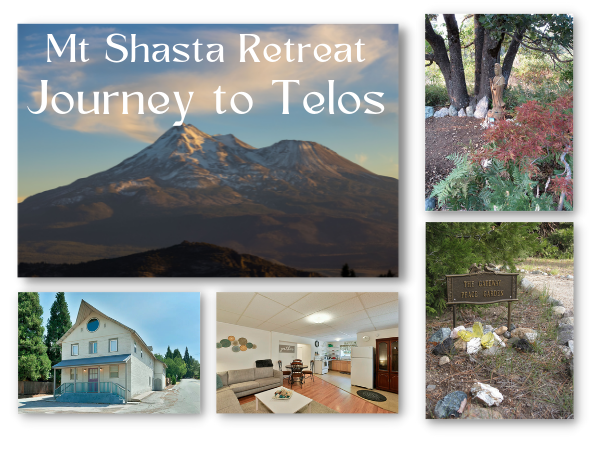 Our Mount Shasta retreat is getting closer! We are planning a special experience for you and a wonderful place for you to stay where you can rest, receive, and integrate the gifts of this sacred space and all this delightful town will give you. In our time together we can look forward to the following planned activities:
Daily teachings and meditations to deepen your ascension journey
Group meditation with Sofie and Wayne at Heart Light - 11:11 am 10/7/2022
Sunrist at a Peace Garden
Guided journey at Mount Shasta and immersion into Telos and the Ascended Masters welcoming us to their sacred home
Sacred meditations and personal introspection at Shasta/Telos vortices
Free time for shopping and exploring the shops and restaurants of Mount Shasta
Compass Rose hosted group meal on Friday evening
Coming together early Sunday morning for breakfast and celebration
Private space for sleep and integration
Balance is important and integration is essential, and our intent in developing the weekend's itinerary is to ensure a wonderful interactive time as well as for your personal space and sovereignty.
Our group is carefully chosen to allow for comfort for everyone. Each person attending understands the spiritual journey requires rest and solitude at times. Time for such is available and encouraged, as well as shared experiences, and plenty of joy!
Tuition is $1,555 not including travel and meals taken on your own. Your non-refundable deposit is appreciated at this time and the tuition balance is due August 1, 2022. We can offer a 5% discount for payment in full upon registration completed before May 15, 2022.
We are assisting some of you in setting up shared travel to enjoy the commute from the Sacramento airport. Please let us know if you want to share a rental car, or to check with one another for flight arrangements in the event you want to share flights. Southwest Airlines is the best and least expensive choice and does offer a one-leg mid-day flight. Each 3-person apartment has a kitchen for which you may want to stop at a local grocery store for snacks and personal needs.
The autumn weather will be beautiful and we suggest layered clothing and hiking shoes for our Mount Shasta/Telos visit.
Dates: October 6th - 9th, 2022
Tuition: $1555
We accept cash, check, credit card and paypal.
This class requires a commitment - tuition is non-refundable.

Sold Out - Our next planned Mt Shasta Retreat will be in June 2023