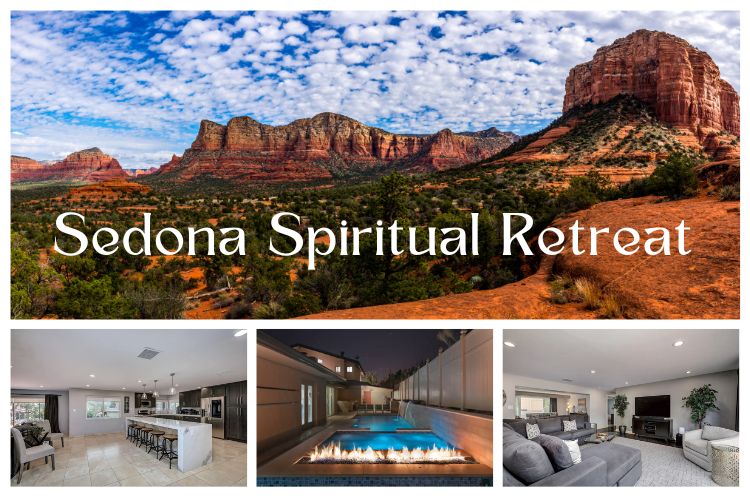 Towards Ascension - Elevating Your Human Experience
Join us in Sedona, Arizona for an experiential retreat to further your human journey towards awakening and ascension.
We have chosen a beautiful home where Dan and Stacia will teach and students can explore, integrate and gain wisdom amongst other spiritual seekers like you. The home is walking distance to the Tlaquepaque Arts and Shopping Village where you will find music, restaurants, and shopping to be enjoyed mid-day and evenings as the week progresses and is integrated into our learning experiences.
The accommodations include private sleeping quarters, semi private rooms and also communal spaces. The price points for accommodations reflect the options available and range from $375-$1000 per person. We will welcome 10 students to our gathering. We expect the class to fill quickly, so please let us know what your interest is and if you want to register right away.
We are hoping to coordinate students with other travelers to meet at the Phoenix airport and share a car for the 2 plus hour trip to Sedona.
Master Teachers Stacia Zadra and Daniel Naccarato bring an accumulated 40+ years of personal spiritual growth and development. They will present an itinerary that is rich and varied to give you insight into many pathways available towards your personal development, emotional mastery, and ascension. The teachings will give you tools you can use to heal your relationship with self and others, and strategies to implement into your life right away to enhance your every day life and spiritual goals.
Tuition is $1777 plus accommodation costs set according to sleeping choices. Accommodation costs will include a kitchen stocked for personal meal prep, and prepared lunches or dinner, depending on how our days are set for independent in-town fun. A swimming pool is available for your personal use in the evenings.
We are excited to be a part of the magical Sedona community and to welcome you to this beautiful spiritual retreat. Reach out to talk with us as you consider joining us. We look forward to being with you.
Abundant Blessings and Gratitude for us all -
~~ Stacia Zadra and Daniel Naccarato
Dates: August 29th - September 2nd, 2022
Tuition: $1777
We accept cash, check, credit card and paypal.
This class requires a commitment - tuition is non-refundable.

Register Online